Resources can be found on the library shelves
Search Alexandria catalog here
Some books available in the IMC
Fearless Female Journalists
Call Number: 920 CRY
ISBN: 9781897187715
Publication Date: 2010-04-01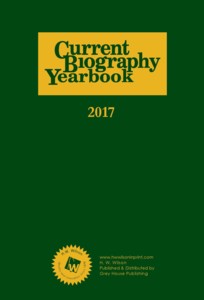 Current Biography Yearbook
Call Number: R 920 CUR
ISBN: 9780824211219
A full year of the monthly magazine Current Biography into a single, permanent record. It has been delivering up-to-date biographies of men and women of contemporary importance since 1940.
Raising Her Voice
Call Number: 920 STR
ISBN: 0813108306
Publication Date: 1994
Includes information about: Maria W. Stewart, Mary Ann Shadd Cary, Gertrude Bustill Mossell, Ida B. Well-Barnett, Josephine St. Pierre Ruffin, Delilah L. Beasley, Marvel Cooke, Charlotta A. Bass, Alice Allison Dunningan, Ethel L. Payne, and Charlayne Hunter-Gault.
Anderson Cooper, Jane Pauley etc.
Call Number: 921
Additional single biographies on journalists such as Katie Couric, Dan Rather, Andrea Mitchell, Walter Cronkite, Anderson Cooper, Jane Pauley and more